We are very happy to announce that, after the huge success of the Sharing Cities Stand at the Smart City Expo World Congress last November 2018, there will be a new edition this year from 19th to 21th November. Book the date!
Last year, the Sharing Cities stand gathered a large international platform economy community: more than 70 initiatives exhibited, more than 100 key speakers, and a full programme of round tables, workshops and meetups were organised around topics like labour, mobility, tourism, gender, city sovereignty, public policies, and more (remind that you can access the recorded sessions, notes and slides following this link)
This year's edition will evolve towards a more action/output approach (for what we have named it "Stand Lab") and will aim at making a step further on the Declaration of Sharing Cities.
Key working lines:
Sustainability eco-green:

New business models and development strategies of platform economy and circular economy

Inclusion and gender:

incorporating gender perspective and ensuring inclusion in sharing policies and digital platforms

Data:

Negotiation with platform for data access, building data commons   
Key outcomes:
Action plan 2020

: During the 3 days programme, all participants will cocreate a 2020 Action Plan for the Sharing Platform Economy.

Hackathon on sharing data commons and Commons Manifesto:

Mapping of datasets and systematization at

Sharing Data Commons

A referent/model gender plan for sharing cities and platforms
Cities will be able to engage with the stand and activities in different ways: participating at specific sessions for cities but also being an active part in the program of activities. We want the Sharing Cities Stand Lab to be your spot of reference in SCEWC.  
For a good organisation we would like to ask you if your city is planning to come, specific topics you would like to be addressed, if you would like to participate as speaker in one of the workshops of your interest, or even organise one. Don't hesitate to contact us at cities@sharingcitiesaction.net!
And last but not least important, this Sharing Cities Stand Lab is meant to be home for the international ecosystem and stakeholders. We encourage you to spread the word through all your partners, local entities and communities, research centers.  The first call for them to apply for a spot in the project exhibition area and/or to organise a workshop will be open until 30th June. Visit the section of Sharing Cities Stand Lab for more information.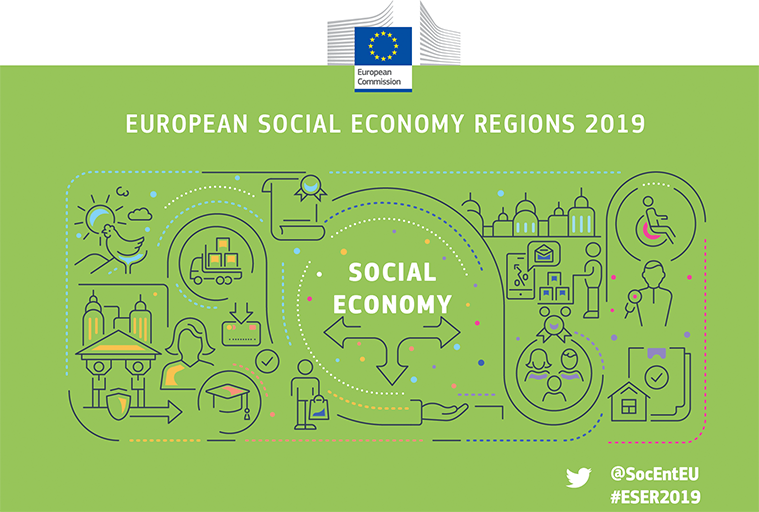 This Sharing Cities Stand Lab has been awarded to be part of ESER 2019 (European Social Economy Regions), promoted by European Commission – DG GROW. This award implies Commission's active involvement in the programme and communication and dissemination support. The outcomes of regional and local events of ESER will be presented at the 2019 European Week of Regions and Cities conference in Brussels.