The Platform Economy is a form of economic development based on the interactions among distributed groups of people supported by digital platforms. Platform Economy is growing exponentially and it is becoming a key priority of governments around the world. The disruptive impact of the best-known cases, for example, Airbnb or Uber, has generated a great deal of public controversy. Socially responsible platforms also exist, but have received less attention.
In 2018, Barcelona hosted the 3rd Sharing Cities Summit, after the editions in Amsterdam (2016) and New York City (2017). Nearly 50 cities gathered together and a Declaration of Common Principles and Commitments for Sharing Cities was launched. Barcelona committed to establish a task force office to support the Declaration during 2018-2019, aiming at fostering collaboration among cities to develop concrete actions to deal with challenges and opportunities of Platform Economy.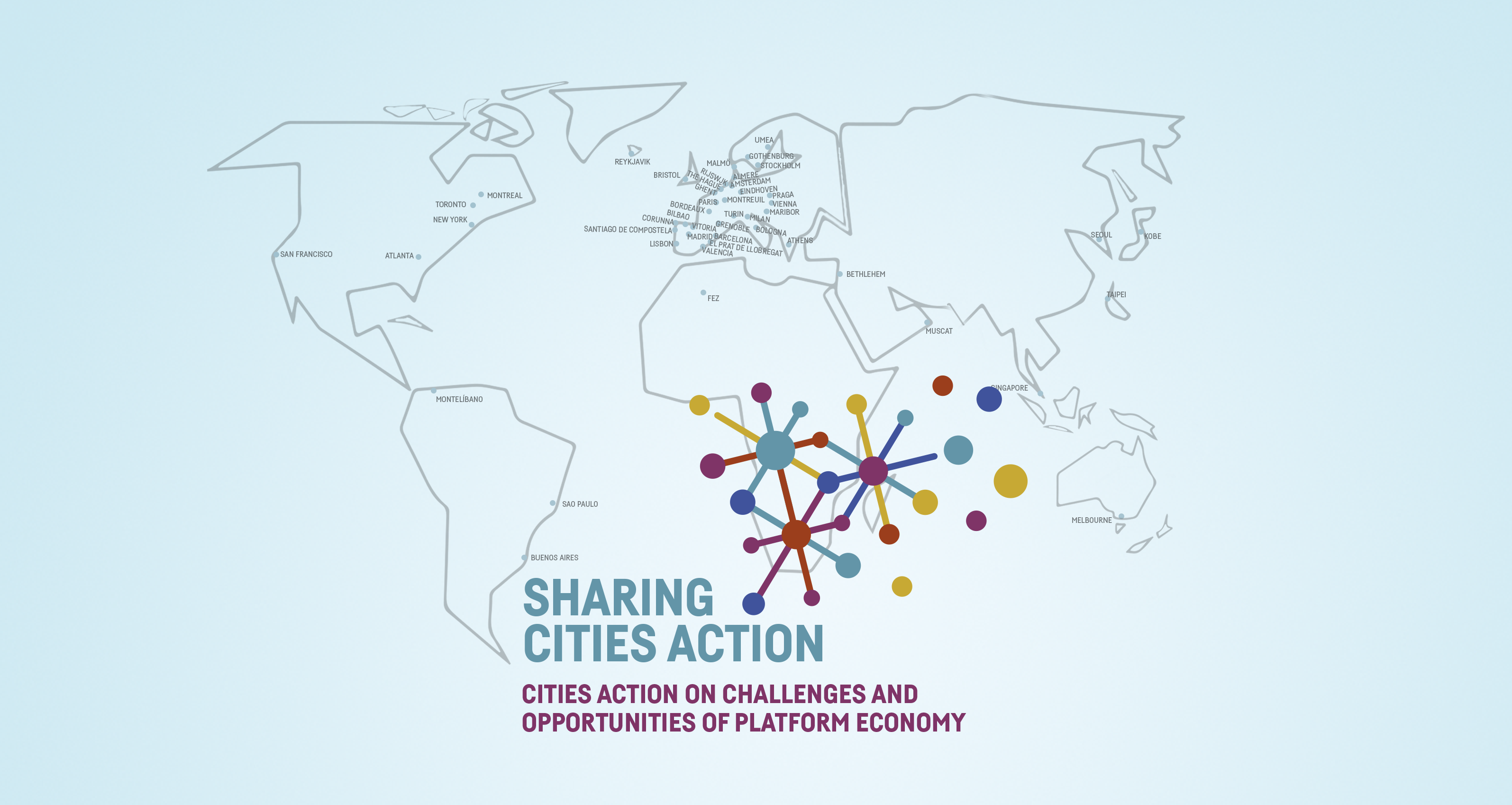 Sharing Cities Action is the result of this commitment, a global collaboration between cities to ensure city sovereignty, to promote socio-economic development, to collaborate in the negotiation of regulation and negotiation with platforms, to defend and adapt labour and digital rights, public innovation, criteria for platforms differentiation and the promotion of platforms with positive impact, among others.
This task force office is a joint collaboration between Barcelona City Council and Dimmons-UOC, and it is meant for all the participant cities of the Sharing Cities Summits, as well as for any city interested on these topics.
48 Cities: Almere, Amsterdam, Athens, Atlanta, Barcelona, Bethlehem, Bilbao, Bologna, Bordeaux, Bristol, Buenos Aires, Corunna, Eindhoven, El Prat de Llobregat, Fez, Ghent, Gothenburg, Grenoble, Kobe, Lisbon, Madrid, Malmo, Maribor, Melbourne, Milan, Montelíbano, Montreal, Montreuil, Muscat, New York City, Paris, Prague, Reykjavik, Rijswijk, San Francisco, Santiago de Compostela, Sao Paulo, Seoul, Singapore, Stockholm, Taipei, The Hague, Toronto, Turin, Umea, Valencia, Vienna and Vitoria.
26 Countries represented: Argentina, Australia, Austria, Belgium, Brazil, Canada, Colombia, Czech Republic, France, Greece, Iceland, Italy, Japan, Morocco, Oman, Palestine, Portugal, Singapore, Slovenia, South Korea, Spain, Sweden, Taiwan, The Netherlands, UK, USA.
Do you want to join and/or receive our communications and updates for cities? Contact us at cities@sharingcitiesaction.net.